Other than No Limit Texas Hold Em, there are many other forms of poker. This article is dedicated to forms of poker other than No Limit Texas Hold Em, and how to play each game.
Limit Texas Hold Em
Like No Limit Texas Hold Em, Limit Hold Em is played with players being dealt 2 cards down, 5 community cards (Flop, Turn River) and 4 betting rounds. This is where the similarities end. Limit Hold Em is played with betting limits, unlike No Limit. In Limit Hold Em, players are allowed 1 call and 3 raises, which caps the action. So if the blinds are 50/100, player 1 can only call the 100. Player 2 can raise to 200, Player 3 can reraise to 300, and Player 4 can cap the action at 400. This means player 1 has to call 300, Player 2 has to call 200, and Player 3 has to call 100.
Another major difference between No Limit and Limit is that in Limit Hold Em the betting limits change on the turn. In Limit Hold Em, when the blinds are 50/100, the minimum bet pre flop and on the flop is 100. This bet doubles on the turn and river to 200. The same 1 call and 3 raise max rule applies to all betting levels.
Some things to keep in mind when playing Limit Hold Em are try to play premium hands and don't try to play every hand. Just because it is a limit game doesn't mean you should chase all your draws or play any 2 cards. You'll go broke doing so. When you have a hand, bet! By allowing players to see free cards, you're giving them the opportunity to win the hand by catching there card.
A lot of people frown on playing Limit Hold Em because of their experiences playing in casinos. In low limit cash games at casino's you will find a lot of loose players. They have to change their game in limit hold em tournaments because the blinds will increase regularly, making it impossible to play bad cards for a cheap price.
Pot Limit Texas Hold Em
Pot Limit Texas Hold Em is played just liked its no limit cousin, with the only difference is the maximum one can bet is the size of the pot. Lets say preflop the blinds are 50/100, and the there is 150 in the pot ( just the blinds) and player A bets the pot. In order to bet the pot, player A has to call the big blind, then bet the size of the pot. So player A's total bet is 350, since he has to call the big blind. Lets say after the flop there is 1000 in the pot and player a wants to bet the pot. Player A only has to bet 1000 since there was no outstanding bet to call.
Pot Limit games do allow players to go all in, but the pot has to be large to enough for a player to do so. Your position really affects how you play in Pot Limit games. If you bet the pot from 1st position, the bet is small enough not to scare anyone out. But a pot sized bet from the button will usually be enough to win the pot.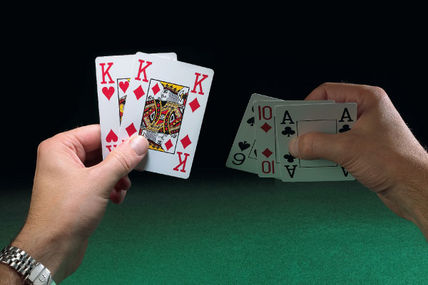 Royal Hold Em
Royal Hold Em is Texas Hold Em with a twist. Royal Hold Em is played with only 10's, Jacks, Queens, Kings, and Aces. This game can be played with up to 6 players. Royal Hold Em can be played in any format, but it's generally played as a limit game with a lot of action.
Pineapple
Pineapple can be played 2 different ways; Pineapple and Crazy Pineapple. Both games are played like Texas Hold Em, except all players are dealt 3 cards instead of 2. In Pineapple, players must discard one of the 3 cards they were dealt before any betting occurs. In Crazy Pineapple, players play all 3 cards to the flop. One of the players hole cards must be discarded before any betting occurs on the flop.
Both games can be played as limit, pot limit, or no limit games. Crazy Pineapple can also be played as a Hi/Lo game, meaning the best hand wins half the pot and the low hands wins half the pot. Although it's usually not played as a money game, Pineapple is a good dealers choice game and a way to mix things up
Omaha
Omaha is a community game like Texas Hold Em, with a flop, turn and river. In Omaha, players are dealt 4 cards instead of 2, and thru out the whole hand players must use 2 of their hole cards at all times. Omaha can be played as either a limit game, or as a pot limit game, which it normally is played as. Some online card rooms offer it as a no limit game, but this defeats the true game itself.
Omaha is one of the few games that a player can flop the nut straight and fold because of potentially bigger draws hitting. Lets say Player A flops the nut straight with 2 clubs on the board and bets the pot. Player B re bets the pot, and Player C re bets the pot. Player A can assume both Players B and C are on flush draws and fold his straight since if the 3rd club comes, he's done for.
Omaha is a game where players really have to read the board, looking for flush draws, and also full houses if the board happens to pair. Hand selection is very important too, since even less hands are really playable in Omaha because of how the game works. Ideally you'd want all cards to work together is some way, like pairs with hi connectors. AAJT double suited is the best starting hand for this reason. [Read more…] about Variations Of Poker