If you're trying to diversify your poker portfolio, you really need to learn five card draw. It's really one of the oldest forms of poker, and plenty of people know how to play it. Just because the casinos aren't covering it doesn't mean that it's not important anymore. If you go to a party and they're playing Five Card Draw, you really need to know what you're actually playing.
Here's what you need to know about the game.
The game is basically split into a lot of variations — you have California Draw, where there's no restrictions on the cards needed to open or win. This is pretty cool because when it comes to high stakes, you have lots of chances to bluff and win big money.
The game is played with a regular 52 card deck, and you get up to six players. You can have even 8 players if you really wanted to, but this makes for a messed up game. Six is the optimal number here, people.
Before the deal phase, each player puts an agreed ante into the pot — this is like a forced bet, for all of you poker newbies. The ante will be the same as the minimum bet. The cards are then shuffled and cut, with the dealer dealing all cards face down clockwise one at a time until each player has five cards. This eliminates accusation of cheating from the dealer. There's a betting round that begins after the players have looked at their cards. If everyone passes (checks) in this first round, then the cards are thrown in. The turn to deal passes to the left, the pot stays where it is, and you go through another ante session.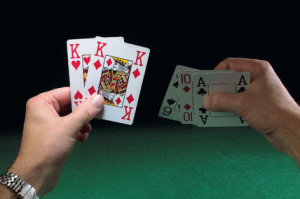 If you're going to play a fixed limit game, the number of raises after the initial opening bet is going to be limited to just four.
You do have a draw phase, where you will need to figure out how to improve your hand. You can discard some cards and get new ones. The play starts from the dealer's left, with each player choosing how many cards they intend to replace. They will then discard that number of cards face down and have them replaced by the dealer. You can discard anywhere from no cards up to three cards.
The second betting round gets pretty fierce — this is where most of the action will be. The showdown comes after the second betting round, if the pot hasn't already been won.
It's all about making your best hand possible. So standard hand rankings do still apply here. If you're coming from Texas Hold'Em, then this shouldn't be too difficult to remember.
There are some cool variations of Five Card Draw that you should definitely know about. There's the variation that lets you draw more than three cards, which is pretty cool. You can discard and draw four cards if the fifth card is an ace. Other variations let you discard all five cards if that's what you want.
There's also variations that let you change the betting rounds to include blinds as well as antes.
There's even Jacks or Better Five Card Draw, which is where a hand has to be as good as a pair of jacks to open the betting.
Keep in mind that you could open with two pair and still satisfy the "pairs or better". The next round can include anything, but the first opener has to be from someone with "jacks or better".
Five Card Draw is something that definitely of benefits. If you're going to play with any type of table game, this is the one that you need to look for. Check it out today!